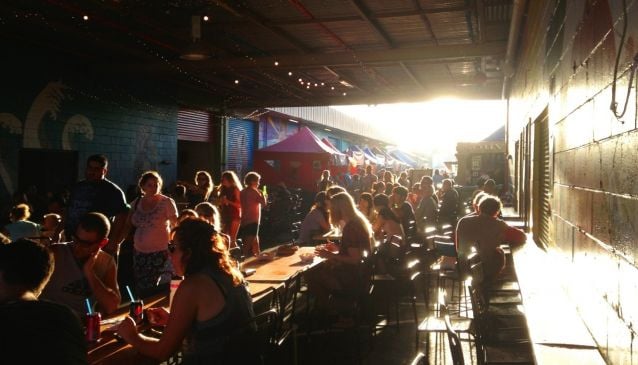 The Miami Marketta
Arts & Culture
...creating a community that is passionate about food, art and entertainment
The Miami Marketta is an arts precinct like no other. A transitional space that's buzzing with atmosphere, each event attracts around 2000 people that come for locally produced food, art and entertainment. Only a skip, hop and jump away from Nobby's Beach you'll find a variety of different unique market stalls all under one roof.
If you're looking for something to do on a Saturday night, then grab a friend, gather a group, or pack your family into a car because the Marketta Street Food is something not to miss. From the time between 4pm until 10pm you could be in any back street of the world, breathing in the rich aromas while making your way through a sea of energetic people, all there for one reason - to eat, drink and have a good time. The private street of Rabbit + Cocoon at number 23 Hillcrest Parade, Miami, is lined with large warehouses and creative studios that open up on Saturday nights to house a large dessert hall plus eating spaces and resident artists. The food stalls are at one end of the Marketta, selling authentic, traditional food from whatever country satisfies your taste buds, while the Rabbit + Cocoon stage is at the other, along with two bars that sell locally brewed beer and boutique wine. The stage hosts local musicians and is recorded by Rabbit Radio, a community based internet radio station situated at the arts precinct. This is a family friendly event but if you're not too eager for tracking through the crowds with your little ones then we suggest you get there early - not only will you be able to score a table but you'll also get the pick of the crop.
On the second Friday of the month, from 5pm to 10pm, the space changes again to house the Marketta Arts Creative. Market stalls of talented local people set up to sell their designs, arts, crafts and fashion to the community. The warehouse and studio doors are thrown open for people to wander through and experience the works of many local artists. The stage always has live music going and there is often other entertainment such as fashion runways, short film screenings and roving acrobats to catch your eye. Come hungry as the Rabbit + Cocoon cafe is open along with the bar and other mouthwatering food stalls to fill your belly. If you're after some one-off pieces and a market atmosphere that you've never experienced before, then make sure the date doesn't slip past you.
The Rabbit + Cocoon arts precinct is original and unique to the Gold Coast, creating a community that is passionate about food, art and entertainment. The space is available to hire throughout the month and is often filled with other events that showcase creative local talent. It's an art community to be a part of, whether you're a local or not.