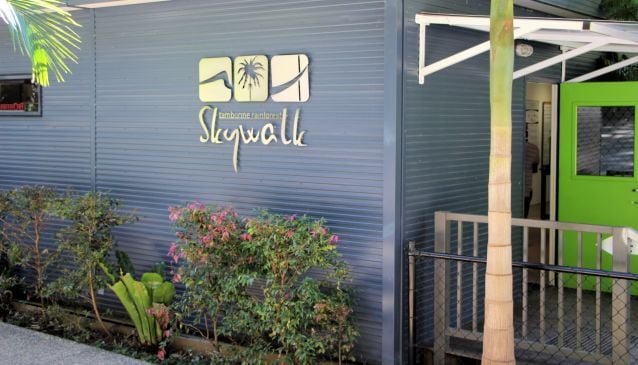 Mysteries of the Rainforest
Adventure
You are reminded of the planet 'Pandora' in the film 'Avatar' where trees were sacred....
A world of green wonder, mystery and ambient beauty await those who venture away from the glitter, sun and sand of the Gold Coast and venture into the "green behind the gold". There is no better way to appreciate the wonder of the canopies of the rainforest than a visit to "Skywalk" on Mount Tamborine
Your walk begins on a spectacular elevated pathway that takes you across the upper and middle canopies of the lush rainforest below. It is easy to imagine that you are now part of nature and have taken a birdlike form to soar across these beautiful lush green canopies, canyons and bubbling creeks.
From here you transcend to earth to follow a natural pathway with occasional seating along the way. As you stroll hand in hand with nature you pass flowering forest trees, rainforest ferns, giant strangler figs, ground orchards and finally you are introduced to life at Cedar Creek.
There is a therapeutic tranquillity at Cedar Creek that envelopes the soul as if you have entered nature's very own cathedral with the silence of trees, the filtered candle light of the sun's rays and the background quiet organ like sound of the bubbling creek as it washes the stones of this ancient beguiling pocket of our world.
Finally there is the beauty of the free standing Rainforest cantilever platform which soars 30 metres above Cedar Creek. As you stand on the platform looking out over magnificent views across the valley below, you are reminded of the planet 'Pandora' in the film 'Avatar' where trees were sacred (The Tree of Souls) and had a deep connection to all life.