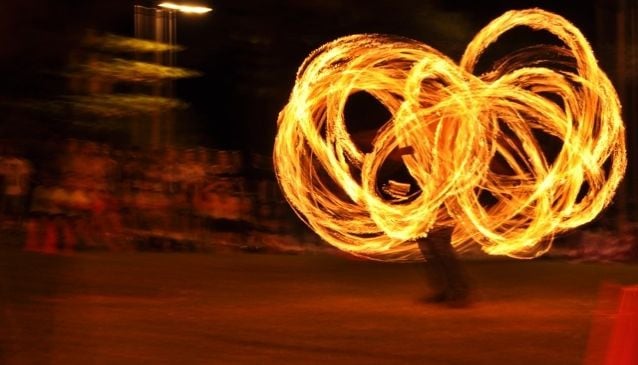 Sunday Nights at Burleigh Heads
Arts & Culture
Sundays at Burleigh is the perfect way to cool down with the locals and say goodbye to the weekend.
For all those looking for something to do on their lazy Sunday afternoon, why not head down to Burleigh Heads? After a swim or even a surf in the waves, Sunday at Burleigh is the perfect way to cool down with the locals and say goodbye to another weekend.
Located right in the centre of Justin's Park, it is a festivity you can't miss. The atmosphere is contagious and on a good, cloudless night, is filled with people singing, dancing and jamming. It starts at 5pm every Sunday and is only ever cancelled depending on the weather.
The Bongo Beat is put on by the community for the community with its defining attractions: the fire circle and the bongo circle. You can be as involved with the activities as you want - it's up to you. If you want to dance then dance, if you own a bongo drum or any other type of instrument, then bring it along for a jam.
Of course there are other activities if you don't want to be amongst all the flurry. There's often a couple of slack lines - like tightropes but more wobbly - set up between trees where you can test your balance. There's also a hula-hooping area where you'll come across and play with some unique, handmade hula-hoops, and if you like it enough, why not buy one off the lovely local lady as a souvenir?
Whether it's a family outing that you're after or even a perfect date, you can't go wrong with a picnic rug and good food. With James Street just across the road, go grab some pizza from Justin's Lane, some vegetarian from Govindas or even the classic beer-battered fish & chips from The Fish Hut before settling in for the night to watch some unforgettable fire twirling.
If the children aren't entertained by the drummers and twirlers, then send them running for the playground, which is conveniently central to all the festivities so that you can still enjoy your picnic while keeping a close eye on them. However, if you find yourself getting bored with the constant beat of the drums and are looking for a more secluded location, nothing is better than sitting on the grass at the top of Burleigh Hill and looking out upon the dazzling skyline that is the Gold Coast. But with Cold Rock within walking distance, what better way to finish off a summer's night with a stroll down the esplanade and an ice-cream in hand.
Of course, what truly makes Sunday nights in Burleigh a memorable evening are the people. Everyone is happy and cheery, sitting with their friends or wandering amidst the activity. In the dance circle you'll often find some questionable but undeniably passionate dancers, and around the edges some free-spirited hippies that come dressed in their best fairy costumes.
It's a sight to be seen and what can easily be said as our own little part of Byron Bay on the Gold Coast.